Jeff Quade presently owns and operates Webtron USA Inc. which is a small web development company based in Palmer, Iowa. He currently holds college degrees in Web Technology, Business, and Liberal Arts from Iowa Central Community College which is situated in the nearby city of Fort Dodge.
Iowa Central College – Fort Dodge, IA
This career all began by programming BASIC on an Apple IIe in High School back in the 1980s. Programming accelerated to C, C++, Pascal, and Assembly Language by the 1990s. During this period numerous software programs were written and published which include the computer game ChessMate.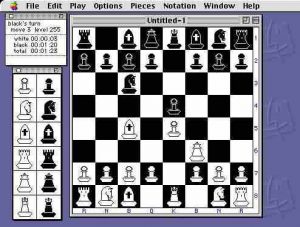 ChessMate
Some of the former positions held include Novell Network Administrator for Newco Parts, Internet Service Technician for DodgeNet, and Network Technician and CEO of Quade Computer Inc.
In 1998 when the home based computer repair business took off it was moved to a downtown storefront in Fort Dodge.

Quade Computer, Inc (photo taken in 2000)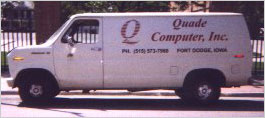 Company Van (photo taken in 2000)
In 2001 an opportunity to work at Electrolux presented itself and gainful employment was accepted. Seven years later when impeding layoffs faced the plant in Webster City an interest was rekindled to resume entrepreneurial activities. A computer repair business was started in 2008 and it changed names several times before becoming Webtron USA Inc. In 2009 the layoff came, and after a short return to college, the full time pursuit today is that of web development.